11. Charlotte Hornets
Lauri Markkanen, PF, Arizona
Many experts have Markkanen going to the Mavericks because of the Dirk Nowitzki.  They're both foreign, 7 foot, power forwards, who can shoot.  I think Dallas is beyond is moving past that offense, as I said they would take Monk in the first round.  Markkanen is perfect for the Hornets because he can slide into power forward alongside Zeller and Kidd-Gilchrist as a floor spacer because they aren't shooting many threes.

12. Detroit Pistons
Justin Jackson, SF, North Carolina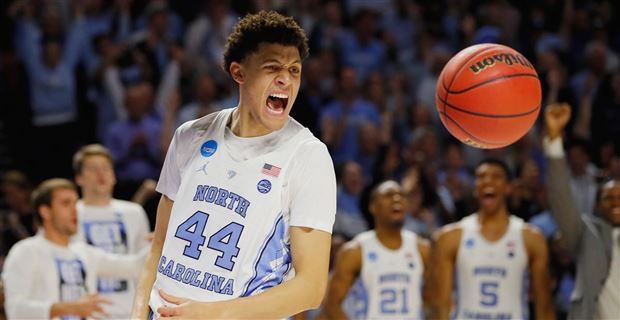 I really struggled between Jackson and TJ Leaf in this spot.  John Leuer isn't the answer, but I'm a Wisco guy, so I'm going to assume that Kentavious Caldwell-Pope is leaving in free agency, and they take 6'8″, perimeter, National Champion Justin Jackson to become a play-maker on the wing.  The Pistons will get a good small ball combo with him at the 3 and Morris at the 4 too.  Leaf isn't dynamic as Jackson.

13. Denver Nuggets
OG Anunoby, SF, Indiana
OG is an atheltic player who should be a great defender in the NBA.  A lot of scouts see him as Draymond Green like with the potential to be a defender of all 5 defensive spots.  I really think the Nuggets need a point guard because Mudiay is trending to be a bust and Jameer Nelson is way past his years.  However, all the top point guards are gone by this pick, and the Nuggets are a team trending upwards in the league and shouldn't be wasting the pick by reaching for one.  It's also tough that OG is recovering from an injury, but the other potential picks are centers and forwards that the Nuggets don't really need.

14. Miami Heat
TJ Leaf, PF, UCLA
Leaf kinda reminds me of a less athletic present day Blake Griffin.  He can do everything decently, including rebound, defend, and shoot the 3.  He's also 6'10", 225 and a smart basketball player.  He's a much better option for the Heat over Luke Babbitt.
15. Portland Trail Blazers
John Collins, PF, Wake Forrest
We know the Blazers back court is set with Lillard and McCollum, but their front court has room for improvement.  Collins averaged 19.2 points and 9.8 rebounds as Wake Forest's PF last year.  Tim Duncan average 19 points and 10.8 rebounds in his career at the same University.  I'm not saying he's Tim Duncan or anything, but maybe… Jusuf Nurkic really blossomed as young center for Portland last year, making Collins a potential front court mate with him instead of Noah Vonleh, but the only issue is none of the three players are good floor spacers.

16. Chicago Bulls
Luke Kennard, SG, Duke
"What do you mean I won't be the next Michael Jordan".  This is probably my most surprising pick of this mock draft.  I just think the Bulls can use the 3 point help.  Kennard shot 44% from 3 last year which would easily put him as the best long ball shooter on the Bulls as soon as they called his name.  I don't think Lopez, Portis, and Mirotic are that bad of a front court compared to how bad at 3s the team is.  I think Kennard is worth it.
17. Milwaukee Bucks
Jarrett Allen, C, Texas
I watched around 70 of the 82 Bucks games this year including all of the playoff games, and I'm of the opinion that Thon Maker is a player and the Bucks have a Championship caliber team.  A starting line up of Brogdon, Middleton, Jabari, Giannis, and Thon oozes length, athleticism, and defense that no other team can match.  As long as Giannis and Jabari keep improving their three point shots to join Brogdon and Middleton, the Bucks could easily be unstoppable.  I'm a homer, but I'm not being delusional by any means.  The Bucks will be scary this year, and will be taking home the Larry O'Brien trophy home real soon.  Snell (The East's Steph Curry) and Delly are great role players out of the back court with Beasley serviceable on the wing as well.  The only issue is Moose is the only other good front court player.  This is where Allen comes in.  He's got over a 7'5″ wingspan, which is absurd and is a locker room must.  I've read that he's a freak athlete and will be a plus rebounder in the NBA, which sounds like the perfect fit off the bench for the Bucks.  I love it.

18. Indiana Pacers
Terrance Ferguson, SG, Australia
I think it's pretty much undoubted that Paul George will be a Los Angeles Laker within the next two years.  Should they just start the rebuild now?  Or, should they move the focus to Myles Turner as their offensive focal point, then draft Ferguson who is a 6'7″ athlete who chose to play in Australia rather than Arizona.  He has the tools to be a lock down defender with a developing three point shot as well.  Maybe he can just take George's place if they coach him up right.  I mean probably not still.

19. Atlanta Hawks
Ike Anigbogu, C, UCLA
I think Paul Millsap is as good as gone this summer in free agency as far as it concerns the Hawks.  So here the rebuild begins.  From what I've read and minimally watched, Ike has the most promise to be a good NBA player versus the rest.  He's more of a rebounder, defender than a star, but I'm not sold on Patton out of Creighton for a rebuilding team.  I just think he has the most potential to be an all-star in a DeAndre Jordan kinda way.

20. Portland Trail Blazers (From Memphis via Denver and Cleveland)
Harry Giles, PF, Duke
As I said before, the Blazers are good in the back court.  I think they might as well draft another power forward and see who sticks.  Giles is as injury prone as they come, but he was the #1 overall recruit in the country in 2016.  With two first round picks, they might as well try to see if he can get back to form as one of the best players in his class.  I would take the chance.  The only other problem is he can't shoot either so it still doesn't help the Trail Blazers in that area.
Stay tuned for Part 3 with picks 21-30.
-D3LS